The next chapter for Root 66: Vegan challah, dog treats and beyond | Taste, the Santa Fe dining scene
First it was a food truck. Then, a cafe navigating the endless changing tides of…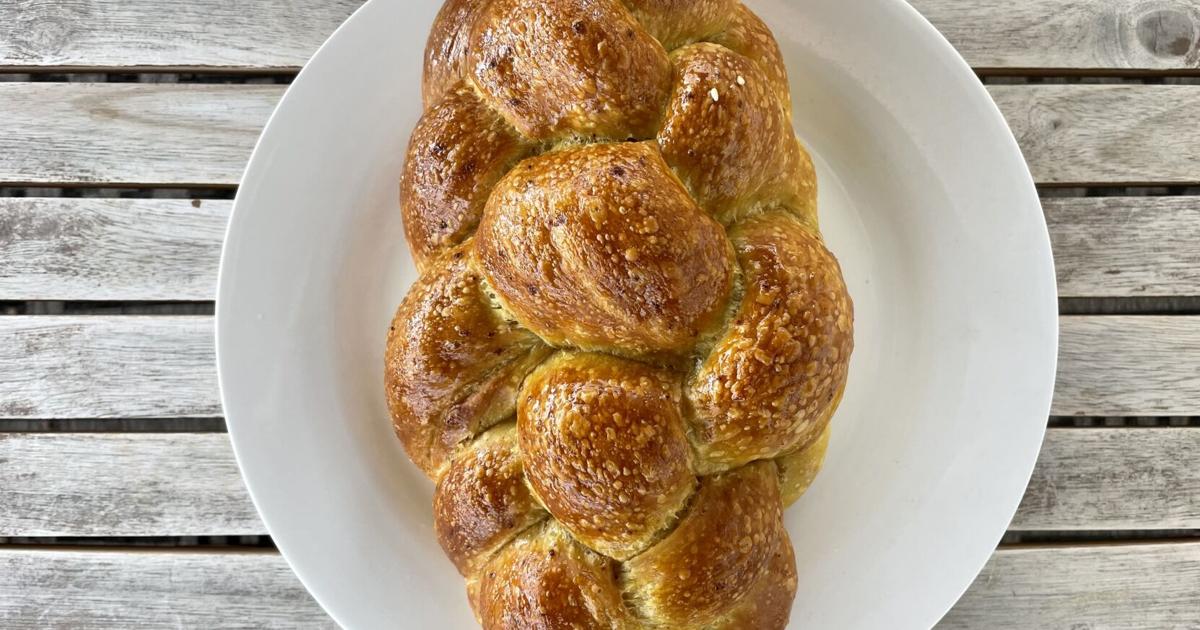 First it was a food truck. Then, a cafe navigating the endless changing tides of the pandemic. Now: Vegan cafe four days a week and Jewish vegan bakery one day a week, with a line of simple, healthy dog treats on the side.
Santa Fe's ever-evolving Root 66 may have branched out into its most creative incarnation yet.
The business started as a food truck originally located at the Santa Fe Brewing Co.'s Brakeroom on Galisteo Street and serving hearty, can't-believe-it's-vegan comfort food like cheeseburgers, sausage and peppers and loaded potato skins. It reappeared in cafe form on Lena Street in May 2020, but COVID-19 forced the business to shift from to-go vegan meals to outdoor seating when rules allowed it. Finally, the cafe closed its doors in February to await new ownership.
Enter Jack Egber, a vegan baker with a soft spot for challah, a Jewish braided bread traditionally made with eggs, water, flour, yeast and salt.
"Challah started it all," said Egber, who came to New Mexico in summer 2019 after living in Los Angeles. He worked as a cook at Vallecitos Mountain Retreat Center in Rio Arriba County, where his vegan challah first developed a fan following. "The very last thing I ate before I went vegan was a piece of challah. I went vegan about 3½ years ago, and there were things I couldn't eat anymore, that I couldn't buy anywhere."
Egber moved to Santa Fe in January 2020 and worked at Chocolate Maven before moving home to his parents' in Maryland during the pandemic. He passed the time honing his vegan baking skills and selling his goods on a small scale.
"This challah has been in my life for a little over two years now," he said. "People associate me with it now."
Then the Santa Fe opportunity beckoned, and with it, a chance to expand his repertoire.
The new Root 66 opened in early October as a cafe Monday through Thursday, featuring a simple grab-and-go deli-style menu and some of Egber's baked goods. But on Fridays, the cafe transforms into Jack's Magic Bakery — and the magical array of goodies sells out every week, Egber said.
There's the challah ($12), a beautifully soft, slightly sweet braided loaf tinted yellow with the clever addition of a bit of turmeric. There's the classic rugelach and babka, too, and Egber has added vegan biscochitos ($3 each or $15 for six) to the lineup. There are oatmeal cookies and peppermint patties — the oversized patties, whose deep chocolate flavor is balanced by the bracing mint filling, are a steal at just $3 each or $15 for six.
For anyone who's never had one (myself included), the Jerusalem bagels ($5) are a revelation. The bread, which hails from the Middle East, isn't boiled; it's shaped into an oblong ring and bathed in sweet, crunchy sesame seeds. The bread's outer crunch and airy interior, paired with olive oil and za'atar spice mix for dipping, is deliciously addictive. It would make a filling lunch all on its own — and that's an important part of the cafe and bakery's approach, Egber said.
"I wanted to make sure anybody could find something to eat here, whether you wanted to spend $4 up to $15 and have a great meal," he said.
The heart of the cafe menu is the "pit stop" lineup: a set of four salads served by the scoop, alone or in combination, with a baby challah bun ($4 for one, $7.50 for two, $10.50 for three or $13 for all four). There's a simple, olive oil-rich couscous with currants, pine nuts and parsley, and a cranberry chickpea salad with celery, red onion and shredded carrots that, to me, shared a plant-based kinship with chicken salad. The mixed-berry salad elevates a generous serving of blueberries, blackberries and raspberries with a sweet and tart dressing of lime juice, poppy seeds, mint and agave nectar.
Egber told me his Enchanted "Egg" Salad, available by scoop or by sandwich on a challah sub, had drawn rave reviews — "Where else can you get a vegan egg salad sandwich?" he asked — but I wasn't prepared for how much tofu seasoned with black salt could mimic the exact flavors and textures of a true egg salad. This is the dish that transported me back to Root 66's vegan-comfort-food beginnings.
"A lot of people come in and get a scoop with a mini bun on the side," Egber said of the pit stop offerings. "It's a great little meal at an affordable price."
The cafe menu will also feature one hot special each month — so far it's been a white truffle mac and cheese followed by a corn chowder served in a housemade bread bowl. There's also a selection of drinks, including brewed Ohori's coffee and one specialty in-house drink: an organic iced oat milk matcha tea ($6).
Oh — and you can also pick up a bag ($7) or pretty glass jar ($12, and a nice holiday gift for a four-legged friend) of simple, organic and vegan dog treats, sold in two three-ingredient varieties under the name Jack's Magic Barkery. All I can say is, we've been training our headstrong 7-month-old Boston terrier to sit for a couple of months now; after sampling a couple of these treats, she saw me opening the container and immediately sat without prompting, staring pointedly at the little biscuit until I tossed it her way.
I get it. There's definitely a little magic in those biscuits … and that challah … and the way Root 66 keeps finding new ways to surprise and delight. I'm looking forward to seeing what other new tricks its new proprietor has up his sleeve.
If You Go What: Root 66 Café When: The cafe is open from 10 a.m. to 3 p.m. Monday through Thursday; the bakery is open from 9 a.m. to 3 p.m. Friday Where: 1704 Lena St., Santa Fe Info: Visit root66.com, call 505-780-8249, or follow them on Facebook or Instagram