Easy Mango Cheesecake Recipe – How to Make Mango Cheesecake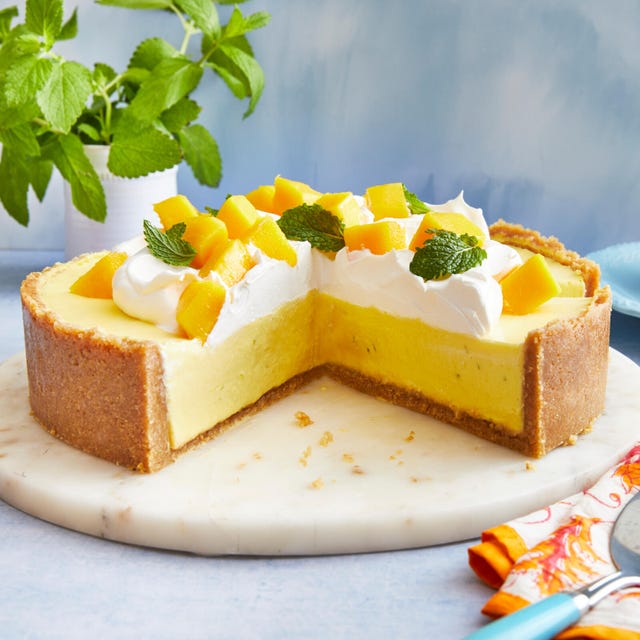 This no-bake mango cheesecake is the answer to all your dessert problems: maybe you don't want to bake, maybe you're scared of making cheesecake, and just maybe you're unable to decide if you want a fruity dessert or a creamy one. That's why this no-bake mango cheesecake is the perfect dessert—it's easier than classic baked cheesecake recipes, it combines both fruity and creamy cravings into one dessert, and you don't even have to turn on the oven!
How do you know if mangoes are ripe?
Shopping for mangoes like shopping for peaches or even avocados. They should be a slightly tender to the touch but, by all means, don't go about brutalizing all the fruit in the produce section! All it takes is a gentle press with your finger.
How do you cut mangoes?
While you can certainly buy a special mango slicer if you have unlimited space in your kitchen drawers, cutting a mango is easy with a simple sharp knife. Start by slicing the flesh of the mango away from the large central pit. A mango pit is like a peach pit on steroids, but unlike a peach, the mango doesn't come loose from the pit easily. That's why you slice the thick "cheeks" away from the pit. Then you score each cheek and cut the chunks away from the peel. The good news is that for this recipe, you don't have to be precise, because all the sweet mango gets pureed in the food processor.
Do you need a springform pan to make cheesecake?
A springform pan is the gift that keeps on giving—its removable bottom and sides make slicing and serving cheesecake effortless and rewarding. If you just can't bring yourself to add one more pan to your collection, you can make this no-bake cheesecake in 10-inch cake pan. The sides will be slightly shorter, but the larger diameter of the pan should accommodate most of the delicious mango filling.
Advertisement – Continue Reading Below
Yields:

8
– 10

servings


Prep Time:

0

hours

20

mins


Total Time:

8

hours

40

mins


For the Crust:
12
graham crackers (full sheets)
3/4
c.

macadamia nuts, toasted
1/2
c.

salted butter, melted
For the Filling:
3
8-oz. blocks cream cheese, at room temperature
3
c.

peeled and chopped fresh mango
1
1/4-oz. packet unflavored gelatin
This ingredient shopping module is created and maintained by a third party, and imported onto this page. You may be able to find more information about this and similar content on their web site.
For the crust: Place the graham crackers, macadamia nuts, and brown sugar in the bowl of a food processor. Process until finely ground, about 1 minute. With the processor running, gradually pour in the melted butter. Process the mixture until it is the texture of coarse sand, about 15 seconds. Transfer to a 9-inch springform pan. Using a measuring cup, press the crust into the bottom of the springform pan and up the sides, about 2 1/2 inches. Press firmly to make an evenly thick crust. Place in the freezer for 20 minutes.
For the filling: Process the cream cheese, sugar, and salt in a food processor until smooth, 1 to 2 minutes. Add the mango and process until smooth and well combined, about 2 minutes. And the lime zest and lime juice, and pulse to combine.
Place 1/4 cup cold water in a small microwavable bowl and sprinkle with the gelatin. Let stand for 5 minutes. Microwave the gelatin mixture until melted and smooth, 10 to 15 seconds. With the food processor running, drizzle melted gelatin into the mango mixture.
Remove the crust from the freezer and add the filling. Gently spread into an even layer and smooth the top. Cover the pan with plastic wrap and refrigerate for at least 8 hours or up to overnight.
For the topping: Loosen the cheesecake from the springform pan. Top with whipped cream, chopped mango, and mint, if you like.
Look for alphonso mangoes if you can find them—they're slightly smaller than regular mangoes and have a light orange peel.
This content is created and maintained by a third party, and imported onto this page to help users provide their email addresses. You may be able to find more information about this and similar content at piano.io
Advertisement – Continue Reading Below